Fashion Wreck!

Jesters invite all the creative fashion wreckers to introduce their own special fashion items - dedicated to the merge and spring.

The merge is here and it is time for warriors to clean their armour, polish their swords and show off to the World of Dragons. We all know there is only one chance for a good first impression!
Are you up for the challenge?
The inventors finally completed the creation of their next masterpiece - the battle chimera.
The creature, assembled from the body parts of various predators by Faeo, turned out to be an impressive fighter. Now she no longer gets tangled in her own tentacles and can fight alone. But what bad luck -
the chimera lacks combat experience.
It's time to put the battle chimera to the test in a real battle!
Let them try on a real enemy!
The benevolent
Luck Glow
sent down by the higher forces to the lands of Faeo has
extinguished
.
..

Who has earned the blessing of the changeable fortune thanks to their excitement and generous offerings this time?
How close
were the representatives of each race to each other?
Read more information in the news...
Warriors of both continents can receive the promised reward from the Well of Fortune and Mouth of Fortune at the City Squares of O'Delvays and Dartrong.
Path to the kingdom of doubles and reflections was reputed to be blocked by the surface of mirrors.
Yet now heavenly bodies are positioned in a special way, that the boundaries are no longer sealed!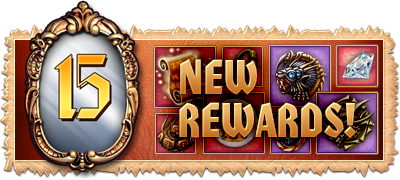 This rare opportunity was instantly used by mirror-world spirits, who want to own all gold in the world.
Don't be afraid of hostile invasion though. spirits will only offer warriors to play a game. When you pay
50
, you'll be able to receive one of the many valuable items, from the mirror-world, or even
amazing artefacts, that couldn't be obtained in any other way. You can get
unique rare prizes
, as well as
other topical awards
for participating in the event.
Now you can purchase the
Reflection Chest
in the
Premium Shop
! (in the
Promotions
tab). Keep in mind that opening this chest doesn't affect your progress in the Magic Mirror game. You can purchase a new chest for

gold
or for

diamonds.
You can purchase these chests until 6.05, 23:59.
Hurry and test your luck warriors!
Warriors! We are pleased to announce that the sale of
special lots
has begun in the
auction
in the

O'Delvays
and

Dartrong
city squares!
There will be
Skinner's Knife
available,
1 piece
for

gold
coins and
9 pieces
for

diamonds
for

Humans
and

Magmars separately
.
When 10 minutes have passed since the last bid, after the end of normal bidding time, the auction will end automatically.
If you were outbid during the auction, the funds will be returned to you.

Bidding will last until 23:59 on 7.05.
Don't miss your chance to strike a good deal!
May time is beautiful like never before. Both animals and birds are enjoying warm rays of Mirrow, Humans and Magmars with pleasure turn their faces to the gentle spring breeze and recall their favourite places in the woods, so that with their friends to go out for a pleasant stroll.
However, one shouldn't forget about their chores! Rulers
Pireney from Settlement of Buimar and
Onufir from Fort Dybrach, whose stockrooms are open and wait for the baskets full of Oilberry, are counting on your help. Wisemen are puzzled: right in the middle of spring cleaning a blast of wind had spread pieces of Origami all over the world of Faeo.
Pandrik and
Flavviy are not able to collect all the pieces on their own and ask for your help too.
Shodu and
Vigor are sure that true warriors can always find time for a feat.
Valuable rewards await those who will find time to help Faeo inhabitants.
Diamonds
, that shine under the rays of Mirrow, are rightfully considered to be the most valuable currency of the world of Faeo. Warriors with the handful of diamonds can open many doors, and tradesmen will be glad to offer rarest goods.
Now you can receive valuable and important goods for the mere fact of purchasing diamonds, without actually spending them!
Warriors! Starting from
12:00

03.05
and
till 23:59 07.05
when purchasing diamonds, during the special offer, you will receive gifts! There are
21 valuable gifts
, which you will
receive one by one for each
25 you buy
.

IMPORTANT! You can now do that in multiple purchases - your reward will unlock after the sum of your purchases is greater than 25! After receiving one prize, you will receive the next one after purchasing another 25 diamonds in total. Remember that you don't have to spend the diamonds to get the rewards!

Hurry - this offer is limited in time!
Banks of

Ogriy
and

Khair
value and love their clients, because mutual respect is the foundation on which beneficial to both parties relations are built! Anyone who
trades in diamonds
will have a pleasant surprise...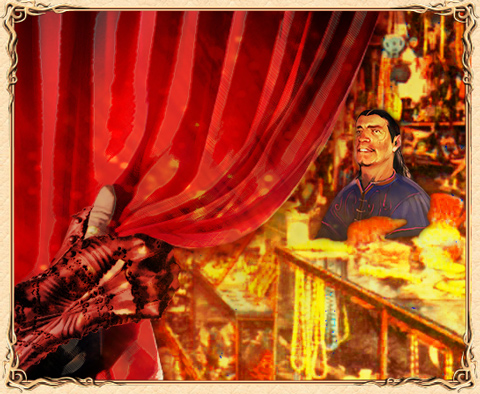 With a
one-time

49
diamonds for

gold
exchange in the bank you will receive an additional reward! Hurry up! After all, bankers can change their minds...
There will be enough gifts for everyone!
Warriors
! Smugglers' accomplices are spreading rumors that
Gloum
and
Chigrik
have gotten hold of rare items, which they are willing to sell in the
Smuggling shop

.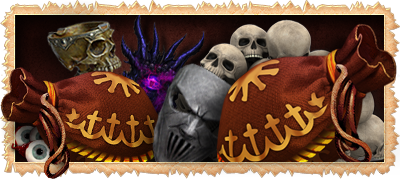 Gloum
and
Chigrik
offer rare items that range from gnomish treasures to the hearts of mighty
Kroffdors
and
Eldives
. Some claim that they have seen items that belonged to
General UyarrMO
himself!
Pay attention to the

changes

of the offer!
1
2
This time each bag additionally contains one of the following items:
For each
100
diamonds
spent in the
Smuggling shop
, you will receive the following items:
The sale will last from
12:00 02.05
until
23:59 03.05.
Don't miss the chance to get unique goods!
The elders that restlessly observe the
Well of Fortune and
Mouth of Fortune in the continents' capitals brought good news to the people of Faeo. They found out that now and then the fire in the bottomless split burns brighter than usual, while the calm water of the well is covered by impenetrable fog.
Since 01.05 12:00

everyone who throws
1
,
5
,
1
or
5 in the altars of the fate, might attract the attention of the higher forces and receive quite a real reward: ranging from regular elixirs to unique armor.
Also. during this event, when donating
gold coins
or
precious stones
to the gods, the following bonuses shall apply:
Attention!
With every donation of
gold coins or
diamonds, you increase your chance of earning the
Carved Flame Token
token!
Don't miss the moment when Luck Glow shines over Faeo!